Brands that trust LawBite to provide legal services to their members





Digital legal platform for the
modern business
Law for business.
SMEs tell us it's...
Difficult to understand
Takes much too long
Full of hidden charges
Our modern approach to law means we can offer SMEs...
Easy to use platform & app
Low, fixed price advice
Friendly, experienced lawyers
Simple, fast and affordable to get your legal issues sorted
Register on LawBite platform
Receive free 15-min consultation
Low fees, reliable fixed prices
Legal expertise delivered by tech
you can rely on and trust
Business law transformed by tech
Our secure platform uses the latest on-line tools & data science to streamline client-lawyer engagement
Online solicitors safeguarding your company
Highly experienced lawyers in our own law firm (LawBriefs) that sits on the platform, regulated by the SRA
Law for SMEs at affordable prices
No hidden charges. Fixed priced work legal work using expert lawyers, but at a much lower cost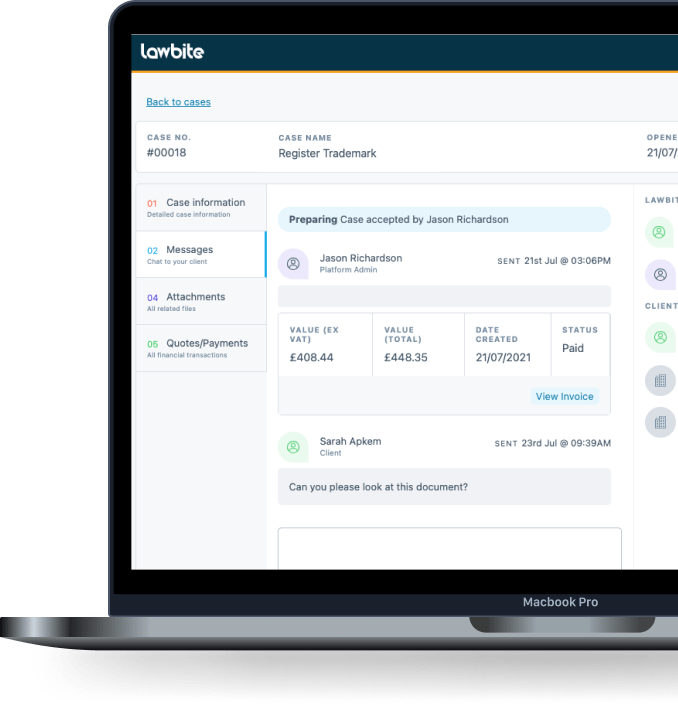 Meeting the needs of new and
growing businesses
'Excellent service, efficient and cost effective'





Brilliant, I wish I had found this service before. The process was simple, cost effective and fast, everything I wasn't getting from a traditional law practice. I managed to get everything I needed done in one day! I'd been trying for over 6 months to get this resolved elsewhere, LawBite will be go to legal assistance going forward.
John Withers
Tuesday 5th October 2021
'Great Experience'





So far my experience with LawBite has been really great! As a small business still emerging they are very attentive, accomodating, and helpful when it comes to assisting business owners with their legal matters.
James Childs
Thursday 15 July 2021